Pumping adrenalin while paddling in German
Ning Network Spotlight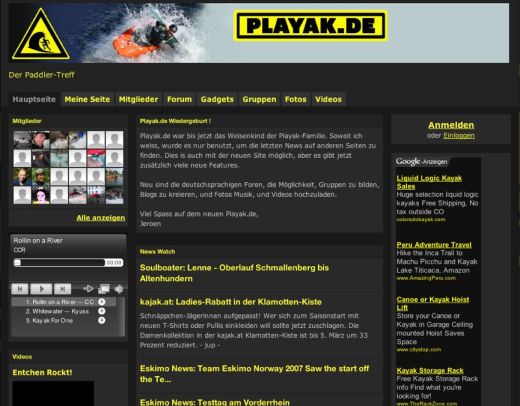 Playak.de ist der Paddler-Treff im Internet… Err… sorry, I meant to say Playak.de is the place where German-speaking paddlers meet on the Internet. The same folks that brought us Playak.net, which we wrote about in 2007, have made a German version of their network available: Playak.de.
They tailored the appearance of the network using the Theme Settings editor. Topping the site is a gorgeous header that blends beautifully with the colors chosen for the network.
Playak.de's main page is made up of RSS feeds in combination with blog posts, photos and videos contributed by the members. The result is a very attractive main page experience that can be enjoyed in silence or to the beat of kayak and river rafting-themed songs played through the network's music player.
If watching this Winter '08 video of folks paddling in freezing water got your adrenalin pumping, and if you speak German, paddle over to Playak.de.