Reach new heights at the Skydiver Network
Ning Network Spotlight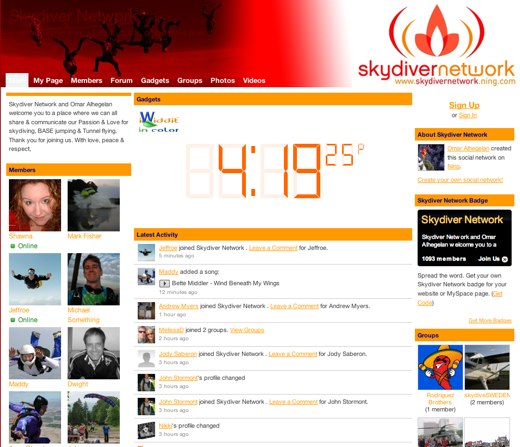 Skydiver Network is a network for skydiving, base jumping and tunnel-flying enthusiasts. Just looking at this network is like taking a shot of adrenaline, even if you're looking at it from the comfort of the earth's surface.
Photos of free falls, in various formations? Check. An image of a child "falling" in a wind tunnel? Check. Video of a guy jumping out of a building, landing safely at the bottom and high-fiving a cop afterwards? Check! And there's also a place on the forums where members of the Skydiver Network can buy or sell gear.
Skydiver Network also takes full advantage of third-party widgets on the network. It includes a calendar and a clock, so you're not late for your next skydiving appointment.
For the thrill-seekers among us — who don't cringe at the thoughtof jumping out of airplanes for fun — meet some like-minded jumpes and dive into the Skydiver Network.