Richard Lewis on "Abigail's X-Rated Teen Diary"
Ning Network Spotlight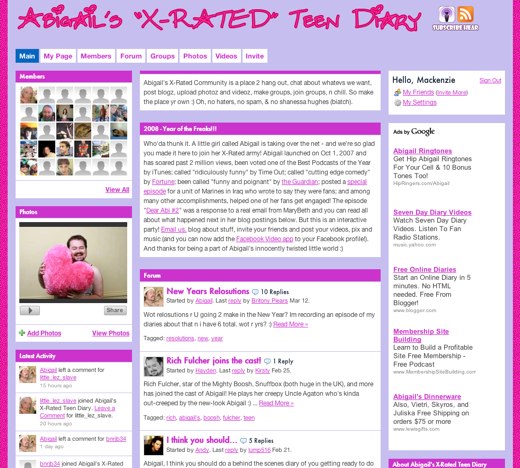 Abigail's X-Rated Teen Diary is a network for fans of Hayden Black's online comedy of the same name. Back in December, we interviewed Black about the show and about his network on Ning.
The network is growing strong, and so is the show! New episodes are posted three times a week. Today's adventure features Richard Lewis, co-star of Curb Your Enthusiasm.
"We shot this particular episode to support a book about stand up comedy in the
70s, "Comedy On The Edge" by Richard Zoglin, and attended a special party in its honor," Black explains of today's clip. "Richard was there and graciously agreed to be a part of the Abigail video. Abigail is now head over heels for the co-star of (in her
words) Curse Your Enthusiasm."
Just another reason to love Abigail. Videos can be uploaded directly to the network or, like the clip below, embedded into any text box. Check out today's episode, and join the "Abigail's X-Rated Teen Diary" network for more!