Stop by The Front Steps
Ning Network Spotlight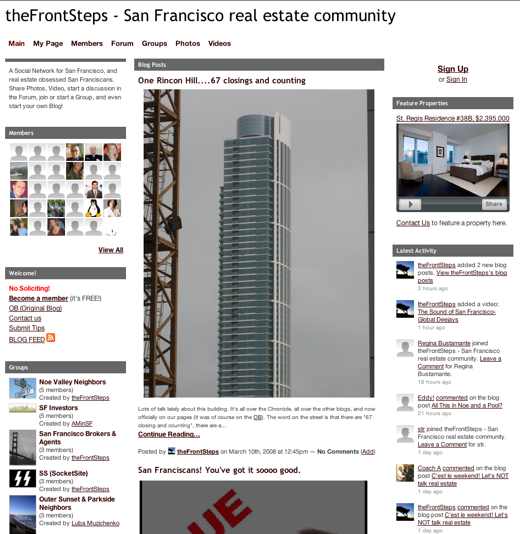 The Front Steps is a brand new community for the real-estate obsessed in San Francisco. Founder Alexander Clark combines his background of blogging and real estate to offer "all the greatest things under one roof: blog, forums, groups, photos, videos and the potential to grow a huge community."
The Front Steps takes unique advantage of the photo slideshow feature for albums, by using it as a property advertising opportunity. The upper right corner of the network currently contains a visual tour through unit 38B of the St. Regis, selling for $2.395 million dollars:
In an area where the median price for a condo is $675,000, it's helpful to keep watch if a price drops. A text box in the lower left side brings in details of single family home prices and inventory levels, along with the condo market information mentioned above. Alex also helps network members keep tabs on the latest developments in the city. With new buildings like One Rincon Hill going up all the time, there's now a place for residents to stay updated on San Francisco's newest buildings.
So if you are in the market for real estate in San Francisco, check out the listings at The Front Steps!