The 100 Day Reality Challenge Goes Viral
Ning Network Spotlight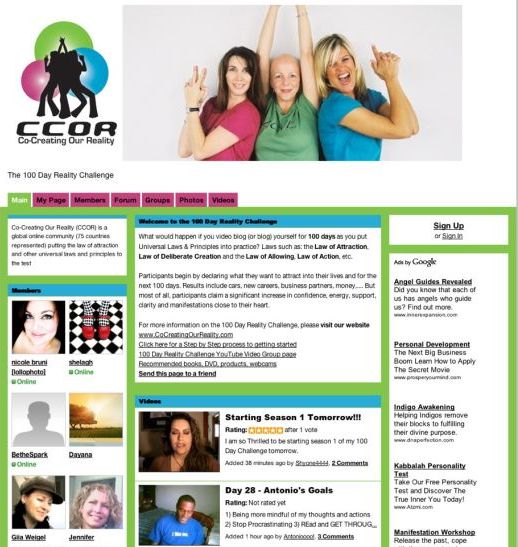 French-born Lilou Mace, the Network Creator of The 100 Day Reality Challenge is "an ordinary person living an extraordinary life." Shown above in blue, she wants to get 1 million people to join this social network so they too can create the life of their dreams.
The 100 Day Reality Challenge is a global online community where participants declare what they want to attract into their lives, seeing the results over the course of the next 100 days. They put into practice the Law of Attraction — you attract into your life whatever you think about — and other principles made popular by the film The Secret.
The group grew initially through YouTube, where it started almost two years ago. Before creating the network, only 400 of the 2,000 participants wanted to post video blogs of their 100 days experiences. "With the 100 Day Reality Challenge now on Ning, all 2,000 can participate," asserted Lilou.
Members such as Kirsten (below) upload videos or write blog posts about their 100-day journeys.
More than 30 different groups gather members based on common interests or geographical regions.
"As the creator of this network on Ning, I love how easy it has been to invite our entire database of participants and for all members to invite other people," Lilou said. "This is a perfect viral marketing tool!"
With more than 300 members within days of starting the network, Lilou's goal to have 1 million members can become a reality sooner than she ever imagined. Sign up to be a part of the extraordinary 100 Day Reality Challenge!