The countdown is over for Europe
Ning Network Spotlight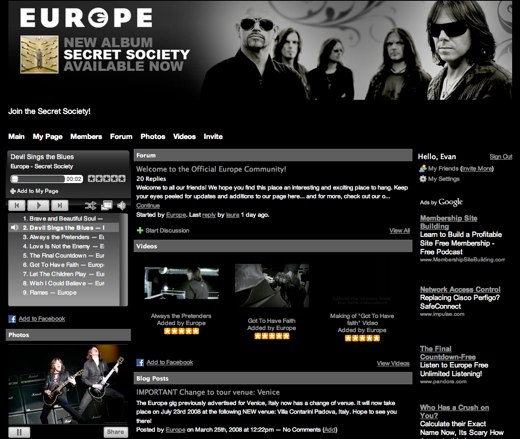 The countdown is over: Fans of the band Europe now have an online home.
The Europe Official Community is the best place for fans of the hugely successful Swedish rock band to share and discuss the songs and their memories. Members have uploaded dozens of videos of the band, from live performances to new music videos.
Of course, who could forget the band's signature hairstyles? Fans certainly haven't, and they have used the photo section on the network to upload pictures of Europe band members throughout the years, from the old to the new.
Interestingly, the network has taken advantage of the new custom default avatar feature to make the default profile nothing more than a square image that says "Upload Photo". In doing so, they've found another way to encourage members to upload photos and make those that do upload photos stand out.
So check out the network's welcome discussion, and join the party. With the band back to together and even producing new albums, there's no better place to celebrate Europe than the Europe Official Community. The countdown never gets old.