Truck Show Nation: a 4×4 way of life
Ning Network Spotlight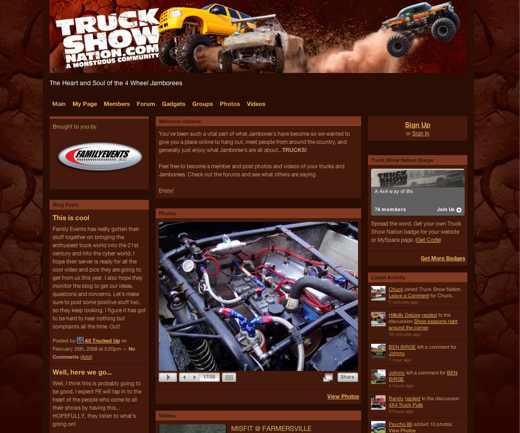 Truck Show Nation is the "Heart and Soul of the 4 Wheel Jamborees." Though a recent addition to the Family Events online presence, members of Truck Show Nation are already throwing up challenges.
"I hope their server is ready for all the cool video and pics they are going to get from us this year," one member declared.
The truck talk continues in the forums, where categories range from Jamboree Chatter, to Show N Shine. If you dig talking about 4X4 Truck Pulls and Show Season, this is the place! These guys and girls are a dedicated group, displaying their trucks proudly in their profiles. The photos section takes it to another level with an average of eighteen photos per member.
So if you want to share the Jamboree Excitement smash your way over to Truck Show Nation!