Uncorking the OpenWine Consortium
Ning Network Spotlight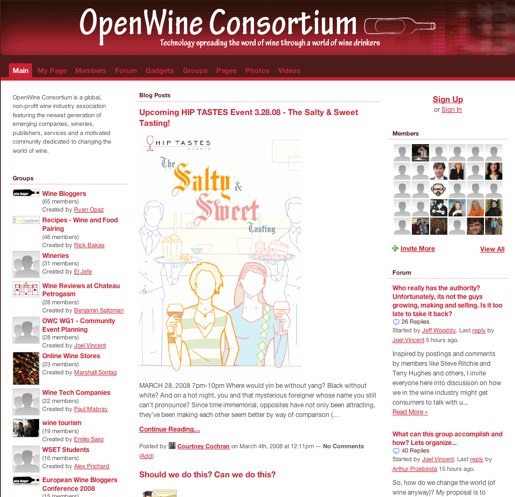 For wine fans and industry insiders, the OpenWine Consortium is quickly becoming the best place to network and communicate online.
The OpenWine Consortium is a "global, non-profit wine industry association featuring the newest generation of emerging companies, wineries, publishers, services and a motivated community dedicated to changing the world of wine."
It's a lofty goal. And the association is turning to the Web to help accomplish it. One of the most popular discussions on the network is about the direction of the association itself. Members use the forums to track discussion among a disparate group of contributors.
OpenWine members have also created many groups on the network. With such a vast collection of individuals connected to different parts of the industry, groups are a way for members to network with a smaller focus. There are groups for South African wine makers, Wine Packaging and — the most popular group — wine bloggers.
Not surprisingly then, members actively blog on the network. Many days there are multiple posts, and members don't hold back with their commentary; nearly all posts have comments.
So if you want to change the future of the wine industry, head over to OpenWine Consortium.