Wall Street Journal loves Etsy too
Ning Network Spotlight
One of the best parts about a growing network is that people start taking notice. It's even better when one of those people is a Wall Street Journal reporter.
The WSJ recently wrote a major story about how Etsy.com — an online marketplace for handmade items — is spreading the word about its products. And the paper's main example is through Etsy's fan-run social network, WeLoveEtsy.com, which is independent of Etsy.com. Check out the spread: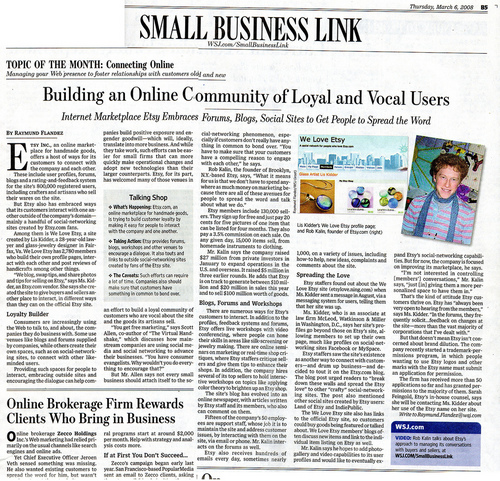 Follow the jump for the whole story and the video.
"We blog, swap tips, and share photos and tips for selling on Etsy," Lis Kidder, the Network Creator of WeLoveEtsy, told the Journal. She added that she created the site to give buyers and sellers another place to interact, in different ways than they can on the official Etsy site.
Rob Kalin, the founder of Etsy.com, may just be the fan network's biggest fan. As he explained to the WSJ, it means "that we don't have to spend anywhere as much money on marketing because there are all of these avenues for people to spread the word and talk about what we do."
The Wall Street Journal, for its part, thought the story was worth more than just an article in print. So its multimedia team put together a short online video piece as well.
Congratulations to Etsy on the coverage! We're sure even more people will be loving the network now.