Your Daily Source for Triathlon News!
Ning Network Spotlight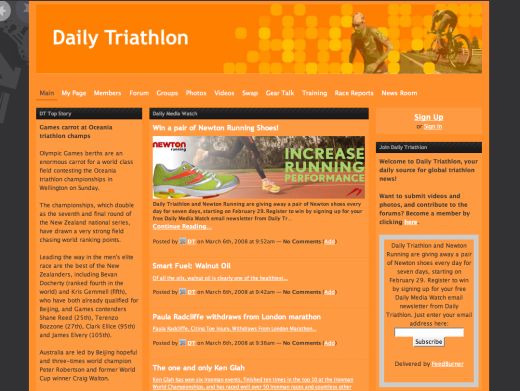 If you've ever been interested in competing in (or just finishing) a triathlon, Daily Triathlon is where you need to be. As member Mike puts it,
"This website is Fan-friggin-tastic. As I peruse the forums and the news items I am in awe. Being a beginner all this information is simply wonderful and the advice on the forums is straight forward and easy to understand."
The network's creator, Eric, is constantly adding content, and members are following suit. Just check out the forum! With discussion categories ranging from Training to Gear Talk to News Releases, it's hard to find info that isn't available. Race day photos really give you an idea of what it takes to prove yourself as a triathlete. And with the chance to win brand-new equipment, there's no excuse for not getting outside and starting your training.
So whether you're training for the Ironman or just thinking about getting started, swim, bike and run on over to Daily Triathlon for today's newest info!