A dose of Daily Pics
Ning Network Spotlight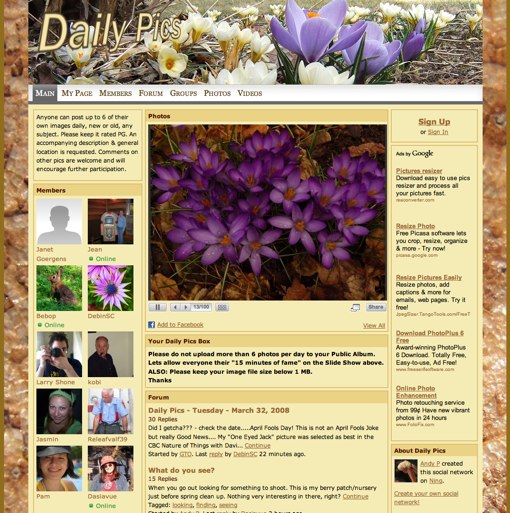 Sometimes a simple idea makes a great network. At Daily Pics, members are encouraged to upload up to six photos a day, that's it!
A simple idea, but 200 members and over 6000 photos later, this network is full of fun and vibrant images that can make your day. Enjoy flowers, cute dogs, ice cream, mountains and more, all from the comfort of you computer.
New members can check out the newbie guide to get started, and the quick reminder about privacy settings is a great way to help new members feel comfortable on the network.
Once acclimated, members can post photos to the Daily Pics feature in the forum. Recent April Fool's Days posts were filed under March 32. For those who take things a bit more seriously, there are tips on photo editing and suggestions on good digital photography books.
So go grab your camera and take some pictures. The Daily Pics network is waiting for you!