Alternative Energy
Ning Network Spotlight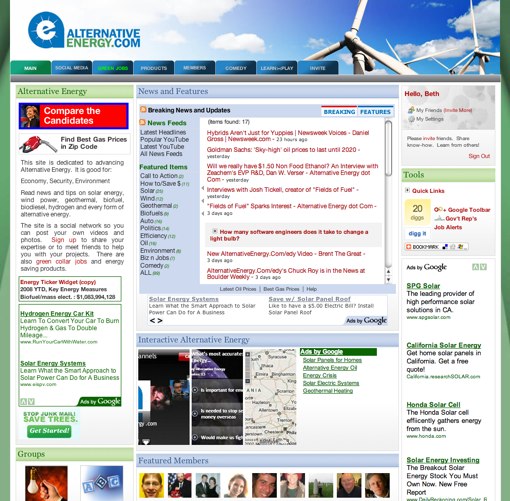 From biodiesel to ethanol to wind power — you'll find it on Alternative Energy, a network for sharing news and information about energy sources that move beyond fossil fuels.
The network really takes advantage of the flexibility of the Ning platform. The design includes a custom header with windmills and blue skies and soothing green ribbons down the side.
To help people get around the network, there are custom drop-down menus as part of the navigation, with features like videos and blogs being grouped under "social media." The "learn/play" tab connects people to a group for educators.
They have also come up with a creative way to use photos — turning it into a "Rate Best Sites" feature by uploading screen shots of other Web sites and asking for feedback using the comment wall.
One of the key goals of the network is to bring people together to share ideas, find "green jobs" or locate support for alternative energy projects. In the custom profile questions that people fill out when joining the network, members are asked to indicate if they are interested in being a coach. These people are then easy to locate by searching for "coach" in the members section.
You too can go green at Alternative Energy!