Auctions for a better world
Ning Network Spotlight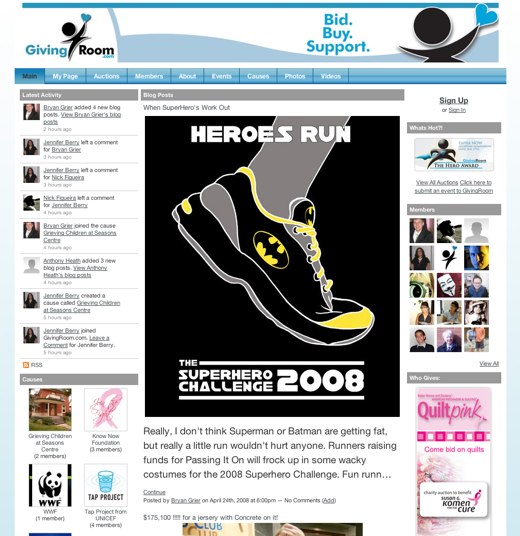 GivingRoom is a Canada-based social network founded on the idea that NGOs, socially aware businesses and everyday people can work together in order to create a better world.
On the network, you will find a list of ongoing auctions and featured auctions, each of which benefits a non-profit organization! Join the auction for Bruce Springsteen tickets to benefit Musicians On Call or meet Dr. Phil to benefit the Alzheimers Association. If wildlife conservation is your thing, check out the auction for two romantic getaways to benefit Mythix, a wildlife conservation non-profit organization!
If you know someone in Canada who goes above and beyond in order to help those less fortunate them themselves, nominate them for the GivingRoom Hero Award! Every hero deserves recognition, and the winner of the Hero Award will receive a paid trip for two and $5,000 for their charity of choice!
Whether you are passionate about the fresh drinking water for the world or the environment, GivingRoom will give you a way to jumpstart your cause.