Diving below the seven seas
Ning Network Spotlight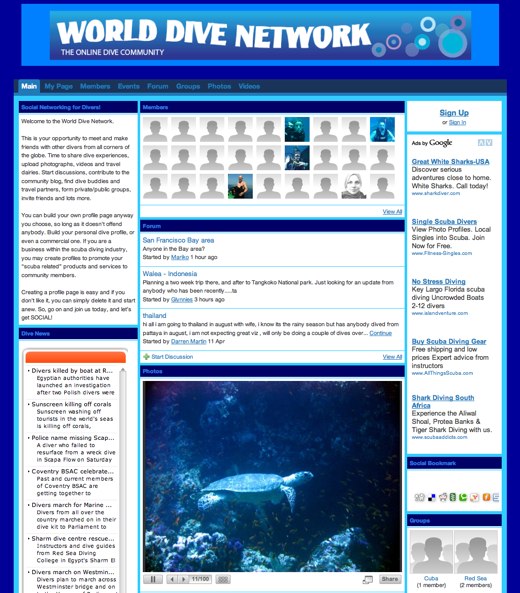 If you can't get enough of life under the sea, the World Dive Network is the place for you. The network is an opportunity to connect with divers from all corners of the globe.
Hear stories about the diving on the other side of the planet or in your own back yard. You can relive your last dive by posting pictures or videos or learn about what other divers have been up to.
Members share stories about their latest dive adventures, amazing photos, videos and news. Forums discuss topics ranging from the best time to visit the Maldives to which is better, a liveaboard or shore diving. Maybe you have heard about the wonders of scuba diving and want to know where you can find the most pristine, crystal clear waters for your very first dive! Find out where in the world the next dive event will be held. There are stories, questions and information from and for newbie divers, who have never ventured into the big blue, as well as skilled veterans with thousands of dives under their belt.
Every good diver knows that information can be the difference between life and death. Scuba Smurf, the Network Creator, consistently updates the sites content and blog to let the members know about buddy searches, news, events or new technologies.
Whether you are just curious about the underwater world or are already counting the days till your next adventure, the World Dive Network is the perfect site of you!