Curl up with Book Place
Ning Network Spotlight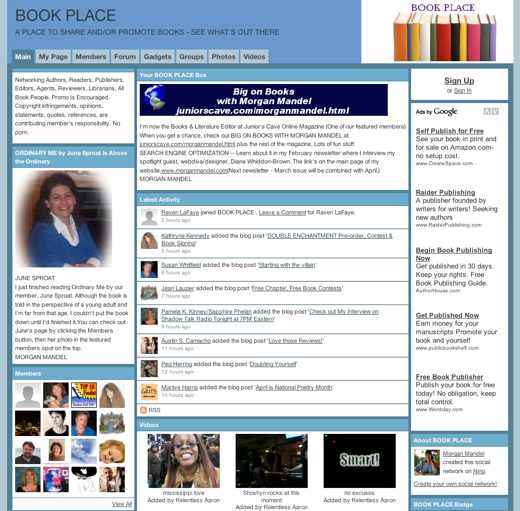 Book Place is a network for authors and readers to connect and a place where promotion is encouraged!
Network Creator Morgan Mandel is an author herself and prominently features her book Girl of My Dreams on her profile page. A funny take on current television, it's the story of a reality-show contestant who falls in love with the show's producer, rather than the eligible millionaire.
Authors use forum discussions to post updates on the progress of their books and to share exciting news about reviews and publishing deals. Members have also created groups to discuss different aspects of the writing process, from getting started to being reviewed.
Members also use photos to promote their books, posting book covers and comments. The photos section becomes a sort of catalog of authors on the network, showcasing the wide variety of writers that participate. From the juvenile fiction work of Likai Chen and his recent Shuisheng the Mallard to Betty Ann Harris' mystery Eureka Point.
So for all you writers out there looking to connect with other authors and promote yourself as well, Book Place is the place for you!