Bring your book club online
Ning's Tips and Tricks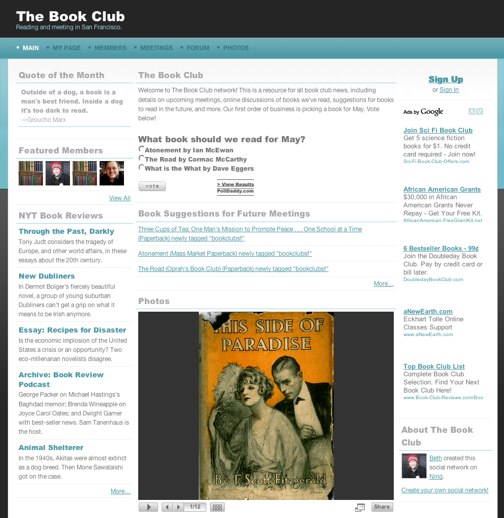 You can use Ning to create a social network for any range of topics of uses, but how about for a humble book group? Today, we're going to take a quick look at how to put the power of Ning to work for you and your fellow readers!

Gather Ideas through customized profile questions
While book group members might already know a bit about each other, you can use customized profile questions to get a sense of what types of books people like to read and to gather book suggestions for future meetings. Ask people about their favorite authors, favorite books and what's on their "to read" list.
You can also use private questions, viewable only by the Network Creator or administrator, to find out who might be willing to host or bring food!
Organize Meetings and Send Reminders
Using the new events feature, members can RSVP for upcoming meetings and it's easy for the organizer to send a reminder email to people who have said they are coming or to prod people who haven't replied!
Start the Conversation Ahead of Time
As people read the book, encourage members to contribute questions and comments in the forum. Use these as a jumping off point for your book club discussion.
The Power of Widgets
"Widgets" are little snippets of customizable code that let you add features to any text box on your network. Use a poll widget to vote on books to read or best meeting dates.
RSS Feeds for Book Reviews and Quick Links
Add book-related content to your network using RSS feeds. Many major newspapers offer their book reviews in an RSS format. You can also track favorite books on Amazon using tags and then add those books to your page using RSS. You can use a tag specifically for book club suggestions and then feature them on the main page of your network.
The possibilities are nearly endless! And the good news is that with Ning, it's easy (and free) to take these features for a spin.