Finding the catch at Fishmasters
Ning Network Spotlight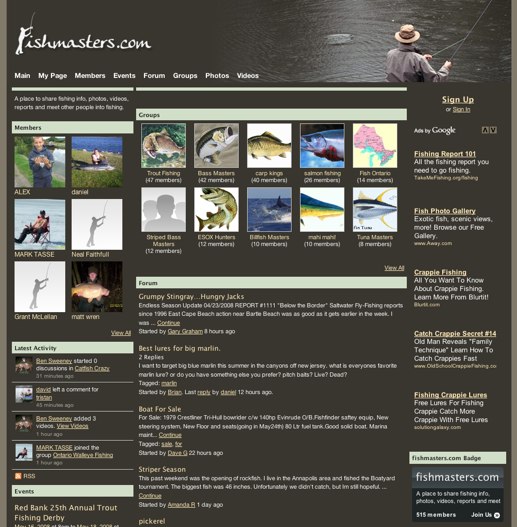 Fishmasters is a network for sharing fishing tips, tricks, advice and more. With more than 500 members, someone's got to know where the fish are biting!
The network uses a custom header to set the tone, with a unique logo and an image of a fisherman. A portion of the logo is also used as the default profile image for the network.
There are nearly as many groups as there are fish in the sea. Featured groups currently include the Bass Masters and Carp Kings, as well as ones devoted to salmon and trout fishing. Members have taken advantage of the group discussion forums to target conversations to each area of interest.
Of course, one of the best things about fishing is showing off your catch. Whether it's an an 11-pound Lake Erie steelhead or a bluefin tuna, photos and videos give members a great place to do that.
Go grab your fishing gear and make sure your catch is the next one up there!