NFL draft action with ImKevinSmith
Ning Network Spotlight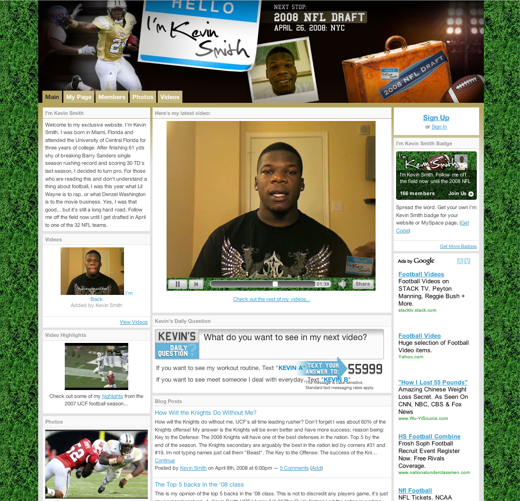 Kevin Smith was the nation's leading rusher and scorer during the 2007 collegiate football season, not to mention a consensus All-American. ImKevinSmith is his home on the Internet.
After initially announcing he would play out his senior year as the running back for the University of Central Florida Knights, he changed his mind in January. On ImKevinSmith, Smith has shared with his fans the trials and tribulations of his decision and the excitement of preparing for the NFL draft later this month.
Smith has used his network to stay in touch with the devoted fans that he made when he played for the Knights. Some of the members that you'll see on the network are diehard UCF fans, such as Knightbreed, while others, like Tony, can't wait for him to come play for their favorite NFL team.
The fans enjoy sharing their favorite Kevin Smith moments. In the photos section they exchange images of themselves at games. In the videos section fans submit memorable clips, like when Smith ran 74 yards for a touchdown.
For someone who has adjusted to millions of Americans watching him through a TV camera, Smith does not take his fans for granted. A lot of the content on the network comes straight from Smith himself. He writes a blog that covers a variety of topics from the music he likes to his top picks for running back drafts in '08. He's added a bunch of photos that help his fans get a glimpse into his personal life. Along with his action shots he proudly shows off a picture of his mother along with pictures of himself as a little kid. He utilizes the video feature to deliver video diaries to his members and uploads similar clips that show what he's been doing leading up to the draft. In the following clip he gets to show off in front of some scouts:
The NFL draft is a turning point for young football players, and Kevin Smith brings you along for every exciting step along the way.