Circus is coming to Carny Town
Ning Network Spotlight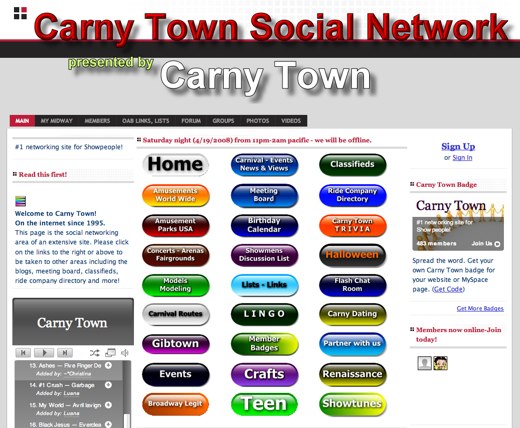 If you belong to the world of the traveling circus, Carny Town is a lively and highly active social network that you have to be part of! Connect with other people all over America living the wonderful life of a carny.
Take a look at the incredible array of photos from carnivals all across the country! Members are taking full advantage of their social network by joining and taking part in groups. They have created groups for everything, from helping your pets cope with your social lives to the tricks and techniques of midway games.
Network Creator Tom Hoey had done a fantastic job providing his members with extensive information by linking his social network to many external sites. You can find classifieds; learn information about amusement parks all around the country and the world; take a look at carnival models; join in the free dating site specifically designed for Carnies; or simply brush up on your carnival lingo!
The Network Creator has even set up an informational Carny network, Carny Town Info, which is linked through Carny Town. It's the place to go for never ending links to amusement park related products, or a list of carnival ride companies!
So if you live the awesome carny life or are itching to get involved, check out Carny Town in all its splendor.