Climbers of the world unite
Ning Network Spotlight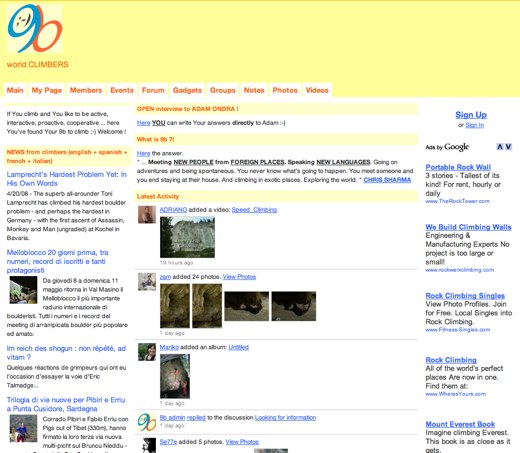 Do you feel the constant need to climb? Do you look up at a wall and start calculating a route? Then World Climbers is the social network for you!
Member hail from all across the globe on this network, which is obvious with the many different country groups and the network's four official languages: English, Spanish, Italian and French.
Like all avid adventurers, members can't keep their adventures to themselves. Members have done the most amazing job taking photos and videos of themselves and their climbing buddies and sharing it with their network. Share in their pride and watch them conquer the toughest rock walls in the world! Some are videos showing off fantastic climbing talent, while others combine their love for rock climbing with their love of film.
Some members create short films showcasing their amazing adventures. Network member Luis Suasnávar Gómez is a professional climbing film making and posts many of his videos on the network. Discover the man who lives in a small cave in the middle of a shear rock wall or watch people go bouldering in San Luis Potosí, Mexico.
The forums are active with climbers from around the world looking for partners. If you ever thought about climbing in Thailand, Korea or Barcelona, there are discussions organizing trips! Join in!
The proactivity of Wold Climbers' members alone will get your adrenaline pumping. No matter if you are a beginner, novice or professional climber, there is excitement waiting for you at World Climbers!