Education from a network
Ning Network Spotlight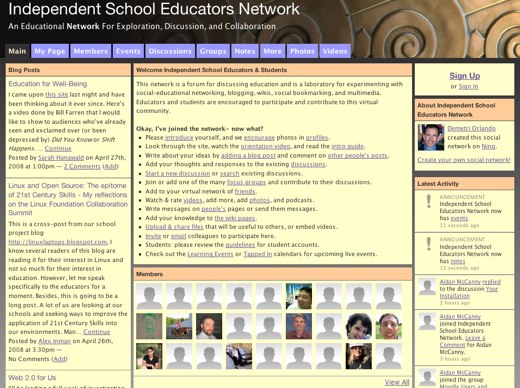 Independent School Educators Network brings educators and students alike together, to discuss education. All member are urged to write blog posts, join discussions or share their knowledge on wikis!
One of the most active features on this network are the discussions among members. Discussions range from student leadership in shaping tech uses in schools to social-bookmarking. Students also join the discussions asking questions of each other such as advice on taking a student newspaper online.
Members post a fantastic number of videos. Plagiarism, movie-trailers about education, early language education or simple phun are all topics of videos. The Independent School Educators Network is a great resource that no student or educator should miss!
Let's start create educational website with Ning: https://www.ning.com/create-educational-website/