EncoreBuzz
Ning Network Spotlight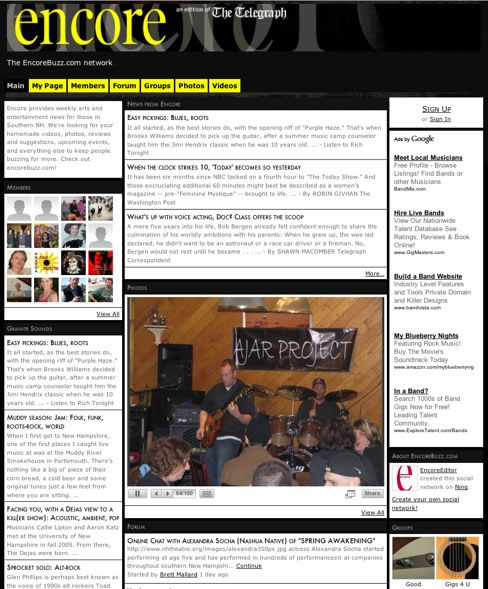 EncoreBuzz is a network for music and art lovers in southern New Hampshire, brought to you by the staff of the Nashua Telegraph. Its goal is to keep readers buzzing about all the great live shows and entertainment in and around the area.
On the Main page of the network there are links back to editorial content from the newspaper, including reviews and artist interviews. In turn, regular features like "Band of the Week" link from the newspaper's website to the network.
The paper encourages bands and fans to contribute original photos, videos and content to the network, "to keep people buzzing for more." The members of Smokehouse Lightning have been good enough to oblige. Other artists have uploaded fliers and photos to promote upcoming shows and a debut album.
In the Forum, everyone contributes to discuss a new venue in town and you can even learn about a local actress who made it big on Broadway. Looking to get hired? Find Gigs 4 U or check for audition postings.
For artists and fans in southern New Hampshire, there's no better place to stay connected than EncoreBuzz.