Get comfortable at Yoga Pad
Ning Network Spotlight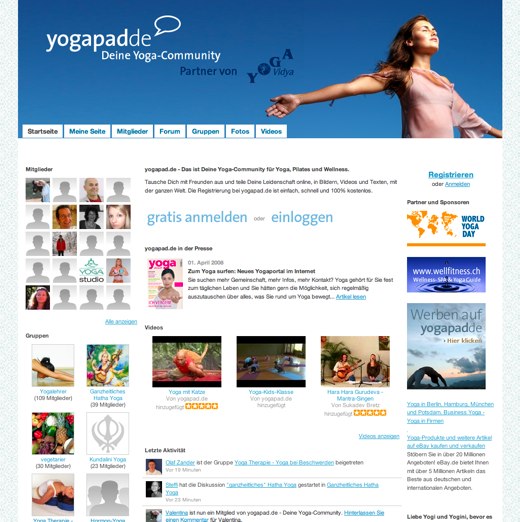 Yoga Pad is a network focusing on yoga, pilates, and wellness. They have taken advantage of the option to choose your own language to translate the network into German, one of the newer translations available!
Nearly 400 members frequent Yoga Pad. Videos and photos teach all who visit new yoga and pilates techniques, emphasizing proper posture for the best results. Members discuss all things yoga, pilates, and wellness in the active groups and forum.
Yoga Pad is also using a number of premium features. Notably, they choose to run their own ads, but instead of using a third party they're chosen to promoting partners and sponsors, such as World Yoga Day.
Additionally, they are using their own domain to further brand their network. Indeed, both yoga-pad.de and yogapad.de point to the Yoga Pad network. This means members can type either URL into their address bar and access the network.
To participate in all things yoga, in German no less, check out Yoga Pad!