Helping Autistic childen at Floortime Repository
Ning Network Spotlight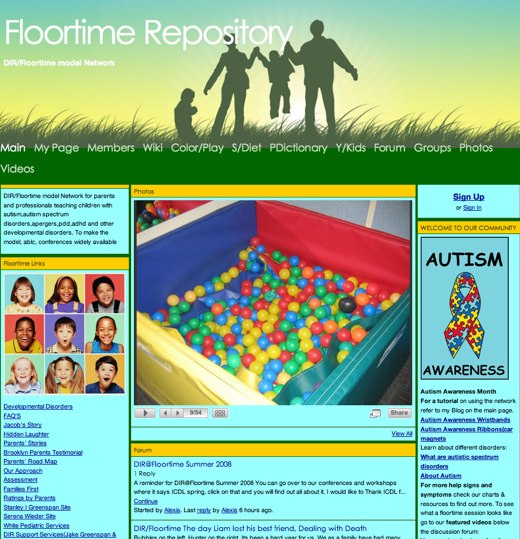 April is National Autism Month. According to the Center for Disease Control, approximately 1 in 150 school age children have Autism Spectrum Disorder. Floortime Repository is a network for parents and professionals teaching children with autism, ASD and other developmental disorders. The Floortime name is based on the DIR/Floortime model, and is a method of developmental intervention for children with autism.
Alexis, the Network Creator of Floortime Repository, has created a true resource for parents and researchers looking to learn more about autism and other developmental therapies, full of links, news articles, and therapy ideas. Members from all over the world have banded together to use the site as both a resource and as a support tool, a way for families to share their experiences. Alexis recently contacted the Ning team and gave us an example of how her network has made a positive impact in the world:
"We have had a child from Kurdistan helped by our network. He was biting and kicking, got kicked out of school, and he barely could talk – what words he could say were only in Kurdish. So when the Special Education teacher found us [through] Google, she was thrilled. Our team of Floortime Therapists gave her suggestions of what to do. Now the child is doing really well and asks about his teacher… [It's] just one of many lives that are touched and helped around the world by our community."
If you're the parent of an autistic child, or just want to learn more about how to help autistic children, stop by the Floortime Repository!