Hiker's Journal
Ning Network Spotlight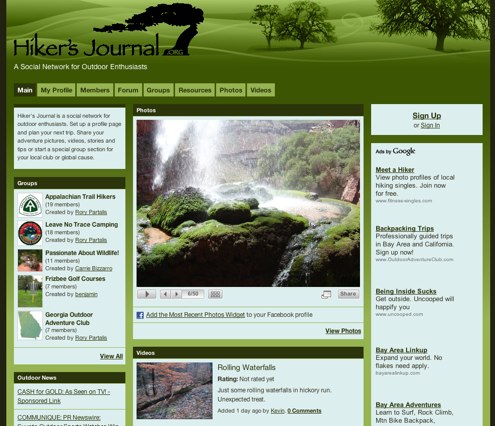 Hiker's Journal is a network for outdoor enthusiasts, with great advice on trips, trails, gear and more. Network Creator Rory Partalis had the idea for the network six months ago, and using Ning "had it up and running within days."
The main page prominently features photos and videos from members, serving as inspiration for your next adventure. An RSS feed brings in the latest "Outdoor News" from beyond the network, but Ryan reserves the most home page real estate for members' blog and forum posts. Active discussions abound, from what kind of camera equipment everyone uses to what to do if you're lost in the woods.
If you're planning a specific trip, odds are you can find a group that shares your enthusiasm or photos of what to expect. There is also a page of links to help you find other online resources.
For anyone interested in hiking and nature, Hiker's Journal is a breath of fresh air!