ImSaturn — are you one too?
Ning Network Spotlight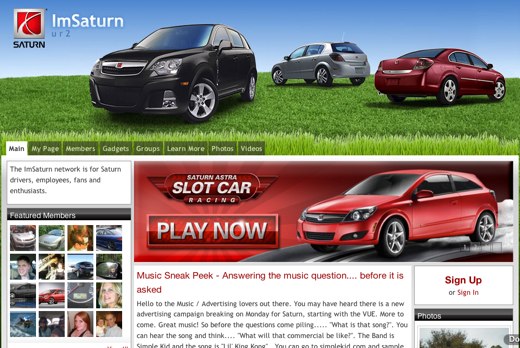 The Saturn Car company has always been known for taking good care of its customers, from its way of handling car sales to the annual "homecoming events" at its manufacturing plant. And now this goodwill has been expanded to the Internet through ImSaturn.com, a network for Saturn drivers, employees, fans and enthusiasts.
What's especially impressive about the network is the content behind ImSaturn.com. There are the promotions and the standard page where you learn about their cars, sure. But there are a lot of "behind the scenes" footage from the people behind the car company, like this blog post giving a sneak preview of the music behind the latest VUE commercial or this one talking about her first day working for Saturn.
And lest you think this is only a network for Saturn employees, more than 1,000 people have joined ImSaturn, uploading photos of their shiny cars and joining groups that range from Saturn Sky owners to members of the 200,000+ mile club to well, "Girls and their Saturns." (Hey, something for everyone.)
Car companies don't have to build social networks for the people who drive their cars. But the Saturn Car Company has, and ImSaturn is an example of a network that is a hit with both the people who work for Saturn and the people who drive them.