The latest in urban fashion at MyVilla
Ning Network Spotlight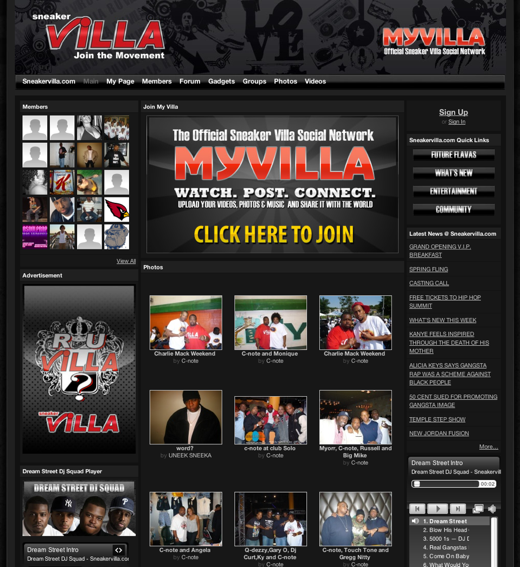 MyVilla is where members come to discuss the latest and greatest in urban fashion, with special attention paid to exclusive and collectible designer sneakers.
The features available to the members of MyVilla enable them to share their passion. You'll find blogs posts about the latest hotness to hit the sneaker market, as well as products to keep the collectibles in top shape. Members enjoy sharing entertaining videos with the other members. In the photos section, the members upload pictures of the freshest designs that have caught their eye. Courtesy of the discerning members you'll find images of the newest sneaker releases, such as the Adidas Irak, Chuck Taylor Christmas Special, New Balance Plaid, and the Supra Muska Skytop, as well as the accessories to go with them, like a retro Casio G-Shock watch. It becomes immediately clear when you visit MyVilla that the members like to show off their style.
MyVilla was created as the social networking component of SneakerVilla.com. It is a great example of how a network can be designed to integrate well with a standalone website. Sneaker Villa operates 16 stores in Pennsylvania that stock exclusive sneakers and accessories. MyVilla is the place where patrons and enthusiasts come to discuss their shared interest in urban fashion.
The synergy that exists between MyVilla and Sneaker Villa is truly impressive. Sneaker Villa contracted the Philadelphia-based design firm Indiefamous to help it leverage the power of its social network. The coordination between its two internet properties, MyVilla and SneakerVilla.com, is apparent in both of their designs.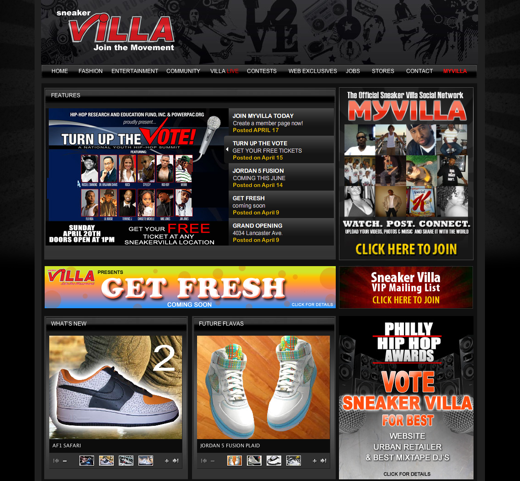 But the integration goes beyond just their look. SneakerVilla.com prominently places an image at the top of their homepage promoting MyVilla. SneakerVilla.com also includes the audio player from MyVilla featuring the tracks that members have uploaded.
On MyVilla a tab has been added to the navigation that links back to SneakerVilla.com, allowing members to easily move between the two websites. Additionally, the Main page features an RSS feed of the latest news posted on SneakerVilla.com.
So if you want to see a great example of how a network can be designed for seamless integration with a standalone website, or just want to catch up on what's now in urban fashion, head over to MyVilla.