Lounging with Social Cigar
Ning Network Spotlight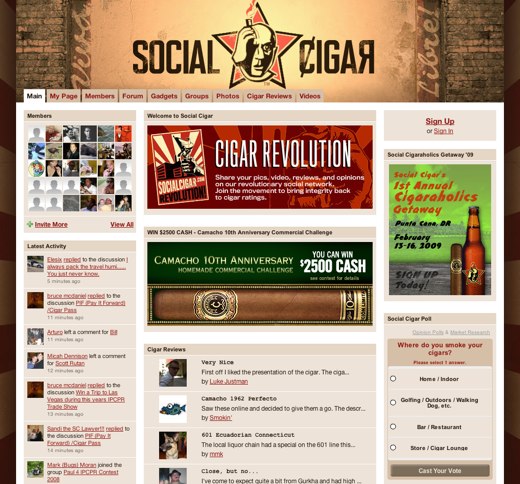 For cigar aficionados, there's no better online home than Social Cigar.
With red and tan colors and a brick background, the network gives off a Havana-inspired appearance. The gorgeous custom header instantly makes cigar smokers feel at home.
The Network Creator, propellorgianni, has done some custom development — easy to do with source code access — and added a very popular "Cigar Reviews" feature to his network. Members select their brand and their specific cigar and then add their review to the network for others to review as well. The Camacho – Triple Madur is one of the most popular.
You'll also find some other easy-to-add widgets on the main page of the network. Members can vote on "Where do you smoke your cigars" in the poll widget in the right column. Once they've done that, they can talk directly to other members through the Social Cigar Chat widget.
The network's forum is even more active than the cigar reviews. The discussions have been divided into categories, such as "Non-Cuban Cigars" and "Cigar Industry News" and "Cigar Talk". Few discussions in any category go very long without replies; more than 25 people have chimed in about "Social Cigar Wear".
In an another interesting use of the forum, propellergianni has created a separate category for new members to introduce themselves. As a clear demonstration of the interest members place in the network, introductions regularly receive more than a dozen replies.
Members have also taken advantage of the built in photos and videos sections, where they've uploaded thousands of photos and nearly 500 videos. You'll find everything from photos of stocked cigar boxes to Buddy, the cigar-loving cat.
So if you want to share insights on the tobacco world or join the Social Cigar trip to the Dominican Republic, head on over to Social Cigar.