Mad about T-Shirts
Ning Network Spotlight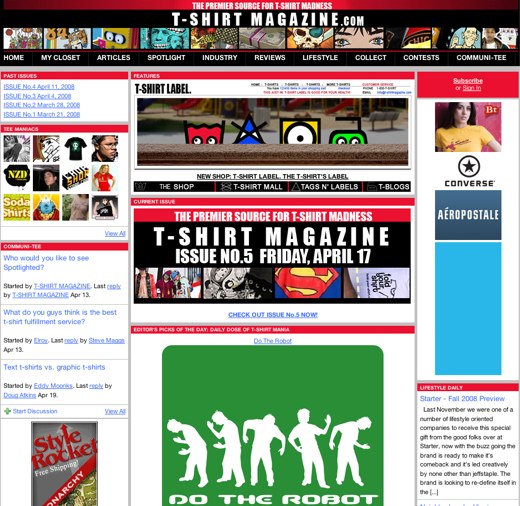 If you aren't already a fan of T-shirts, then this social network would like to change your mind! T-Shirt Magazine is a newly created social network that prides itself on being the "premier source for t-shirt madness" for t-shirt lovers, designers, collectors and entrepreneurs.
When you first visit T-Shirt Magazine, its appearance immediately catches your eye through its creative use of customized animated banner, favicon and default member avatar. The Network Creator has also taken full advantage of Ning premium services by using a domain name, running ads and removing Ning promotional links.
Created in the format of a magazine, the network put out its first issue on March 21. What better way to premier its first issue than a lesson on The History of the T-shirt? The issue is packed with content, such as interesting trivia tidbits, like the fact that, to this day, it remains unclear who first coined the term "T-shirt".
One of the key ingredients that makes T-Shirt Magazine a great social network is that it's packed with everything you want to know about T-shirts — the hottest styles, how to start a collection or how to build your own "t-shirt empire." One way to keep the social network robust with activity is to organize a contest; two contests are currently being held for the member with the best T-shirt design. The winner will receive a nice grand prize and the chance to have their winning T-shirts sold on the social network's own online shop.
If you have a great idea for a T-shirt design or can see yourself sport any one of these t-shirts below, then head over to T-Shirt Magazine!