Smooth ride with meandmybicycle
Ning Network Spotlight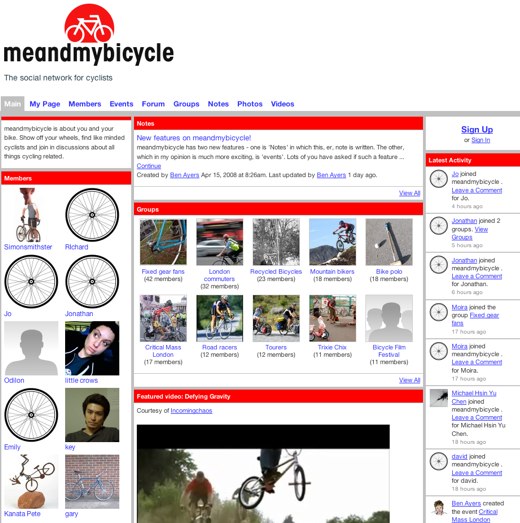 From the very first forum discussion that Network Creator Ben Ayers started, he knew he was "onto something with this network". His social network, meandmybicycle is rapidly approaching 700 members from all around the world and was recently featured on one of the UK's popular newspapers, Guardian Unlimited.
When asked by the interviewer to, "explain your business to my mum", Ben summarized, "Meandmybicycle is a social network for people who love cycling. It's a chance to show off your bike, find like minded cyclists and join in discussions about all things cycling related. "
meandmybicycle easily comes to life through active forum discussions where ideas and tips are exchanged, blogs where stories are shared, and groups where members from of all cycling interests are gathered. A common bicycle theme is present throughout the social network — from its memorable domain name to its fun wheel avatar for members who have not had the chance to upload a profile photo. Making use of one of Ning's two new features, notes, Ben announced the new addition of events — the other major new feature for networks on Ning. Marking the social network's first exciting event is Critical Mass London, a crowd-drawing bicycle ride that takes place on the last Friday of every month in London.
Below, Ben shares some his experiences and strategies in creating meandmybicycle.
How did you come across Ning and decide to create your social network here?
I was investigating social networks and read some complimentary stuff on Techcrunch and elsewhere. Ning seemed like the best option. It was also recommended to me by media futurist Gerd Leonhard as the best way to go.
What Ning feature do you like best or find very useful?
It's a simple thing but the (latest activity) feed is invaluable. It really makes the network feel 'alive'. If you see that someone hasn't visited for a while you make some changes to improve the stickiness of the site. It's a great indicator of how the network is doing.
What is your favorite aspect of being a Network Creator?
I really like the flexibility that Ning allows as well as the excellent support.
Has anything surprising happened on, or as a result of www.meandmybicycle.com?
The range of people who have joined my network is incredible, with members from all over the world. Also I have been amazed at how people have embraced the concept and are really open to sharing their content with others.
Do you have some quick advice for other Network Creators out there?
Experiment. Play around lots and make sure you join the Network Creators as there are loads of great tips.