Redescubriendo a Jalisco en miAltos
Ning Network Spotlight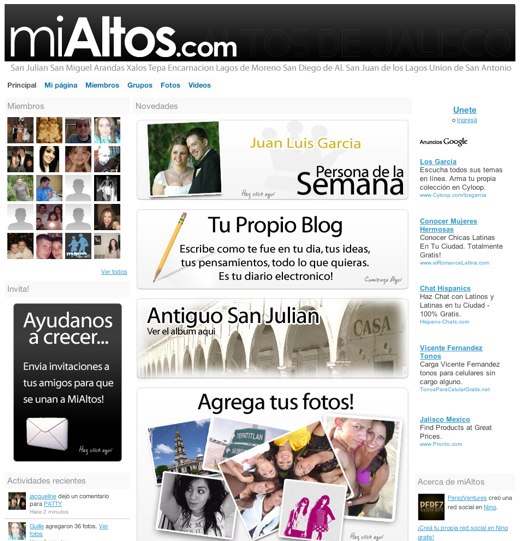 (Most of this entry will be written in Spanish, in the first bilingual post of the Ning Blog. For non-Spanish speakers, there is a summary at the bottom.)
miAltos.com es una red social de los Altos de Jalisco, una región mexicana localizada a unos 100 km de Guadalajara. En miAltos.com comparten más de 300 alteños de Jalisco con aquellos que viven en Estados Unidos.
El trabajo de diseño y organización de la página principal realizado por Perez Ventures, los creadores de miAltos.com, invita al visitante a explorar la red. La red presenta un atractivo encabezado y una explicación visual de los beneficios que ofrece. Estos detalles junto a la personalización de videos y exposiciones de fotos con filigrana en miAltos.com son un ejemplo de la flexibilidad que tienes para hacer tu red en Ning lucir como tu quieras.
A la fecha, los casi 350 miembros de la red han compartido más de 4.000 fotos, en las que puede verse una mezcla de alegría contagiosa, orgullo y nostalgia, ayudando a mantener viva la historia de la zona.
Los miembros de la red residentes en Estados Unidos han creado grupos en los cuales se relacionan con otros miembros que se encuentran lejos de su región natal.
Si vienes de los Altos de Jalisco, vivas donde vivas hoy, miAltos.com te espera, para conectar con viejas amistades y hacer nuevos amigos.
(A summary for all non-Spanish speakers is below).
miAltos.com is a social network for people from Los Altos de Jalisco, a region not far from Guadalajara, Mexico. The network was created by Perez Ventures, a group of young entrepreneurs based in Los Angeles.
An attractive black and white custom header welcomes the visitor with big letters. A large text box in the middle of the main page sports numerous banners that emphasize the benefits of the social network. The design work also takes advantage of the ability to add a favicon and a watermark to the photo slideshows and videos.