Offbeat Bride Tribe
Ning Network Spotlight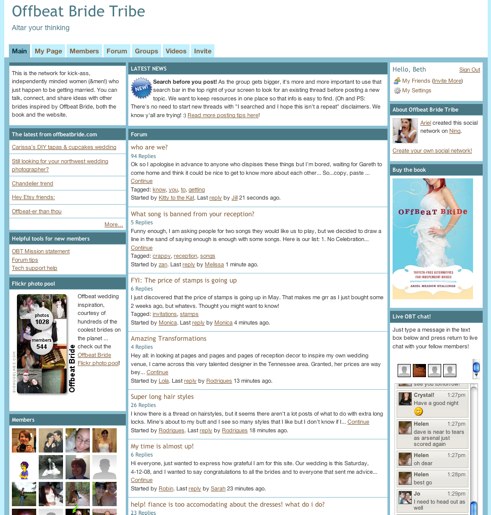 It all started with one independent bride who wanted to do things her own way. When it came time for her to get married, Ariel Meadow Stallings realized she didn't want to blindly go through with all the trappings of a traditional wedding. Instead, she forged her own path and wrote about her experience in Offbeat Bride. Now she's bringing together women (and men!) like herself to form the self-proclaimed Offbeat Bride Tribe.
Over 1700 members are already part of the tribe, actively sharing ideas and advice in lively forum discussions. Not sure what to expect to pay for a custom-made dress? Trying to do things your own way but don't want to give Grandma a heart attack? Need suggestions on "wedsites," budgeting, or table cloths? No topic is too big or too small for the tribe to take on.
Members also use groups to gather around ideas that inspire them, from Brides of the Night, a group for Goth brides, to nature lovers. Members are also using groups to keep costs down and connect over Do-It-Yourself projects and learn how to make their wedding eco-friendly.
With so much to offer, Offbeat Bride Tribe really will "altar your thinking" about weddings!