Power of the right-hand column
Ning's Tips and Tricks
There is a powerful element in your network's layout that you can leverage to many purposes: the right-hand column. Its power lies in the fact that features you add to the yellow area of the right-column on the Features page will show up on every page of your network.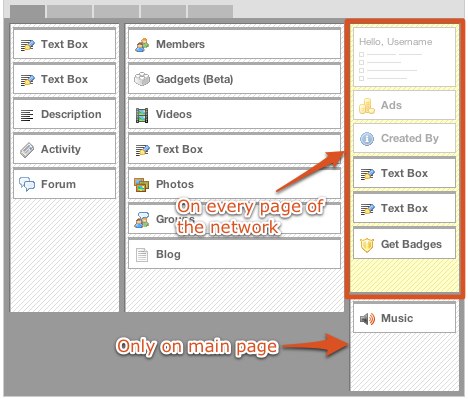 Network Creators can do a lot with the right column, such as:
Link out (with a nice-looking banner or with plain links) to Notes on your network such as FAQ, About Us and Community Guidelines, that you want to have visible across your network. It helps members find a place where they can conveniently get informed about the network and the rules that govern it.
Add a "Digg This" widget to allow your members to add pages from your network to digg.com. Other viral elements, such as access to the network's badges and any instructions on how to spread the word about the network should ideally be placed in this column.
If you run your own ads placing them on the right-hand column will typically offer your members a broader range of ads to click on as the context for each page throughout the network is going to be different, thus resulting on varied ads getting displayed. Also, studies have shown a significant increase in average click-through for ads placed on the right side of web pages.
Why don't you share other creative tips on how to make the most of your network's right-hand column?