Proud to be a rocket
Ning Network Spotlight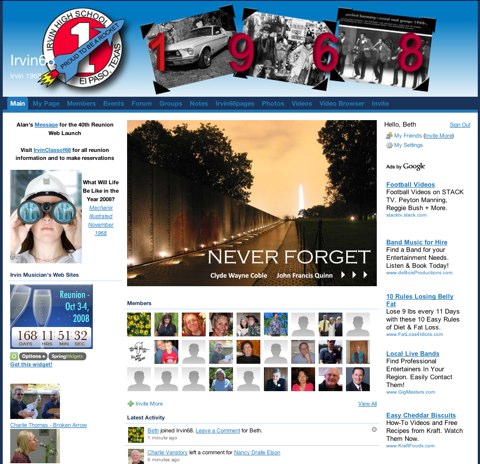 This is a network 40 years in the making. For the Irvin High School class of 1968, there is now a new way to reconnect and stay in touch with former classmates, and plan for their upcoming reunion. It's called Irvin68, and it brings former students from around the world back to their high school days in El Paso, Texas.
The network's custom header features the school motto "Proud to be a Rocket" and images designed to take people back to high school in the late '60s, featuring the cars, fashion and music of 1968. More than 160 members have joined the network to reminisce and and share updates on their lives, with numerous photos and videos. Members can also see how 2008 shapes up to what was predicted in articles from 40 years ago. Too bad space tourism is still in its infancy!
Of course, one goal of the network is to get people excited about the main event— the reunion weekend in October. Irvin68 includes a handy countdown widget on the Main page to help build anticipation, only 168 days to go.
No doubt, with this robust network, their 40th reunion will be one of the most successful yet! Irvin68 is a great example of a class that's connecting in new ways online to reconnect and strengthen those personal ties made years ago.