Rocking with Mamas Fallen Angels
Ning Network Spotlight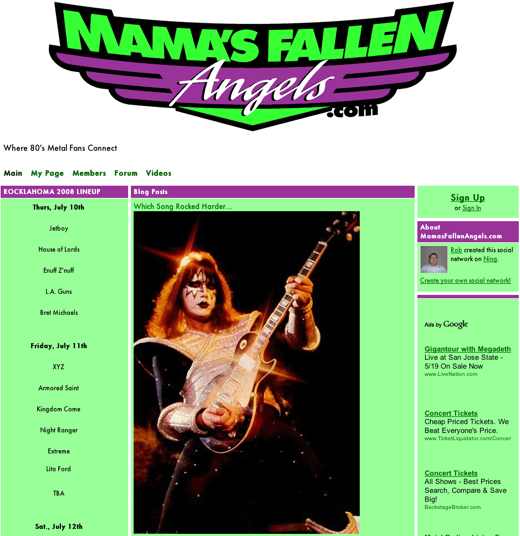 Are you an 80s metal fan? Where do you connect? Because you should be rocking out at Mama's Fallen Angels. The electric green and purple winged logo welcomes all who rock to this network!
The forum is filled with 201 topics where Mama's Fallen Angel members talk about favorite new bands and old. Sometimes bands are both new and old, and the discussion compares which version is better. They also cover the metal festivals, from South Texas Rockfest to Rocklahoma, a four day rock extravaganza.
Videos is filled with classics like Poison's Fallen Angel, inspiration for the network name. Members have been busy, rating their favorites; Poison, Metallica, and Queensryche reign supreme. Blogs are fully utilized, announcing tour updates, new music, games and reviews.
To experience this epic display of hair and metal yourself, drop by Mama's Fallen Angels!