SeaKnots: for those who cruise the ocean
Ning Network Spotlight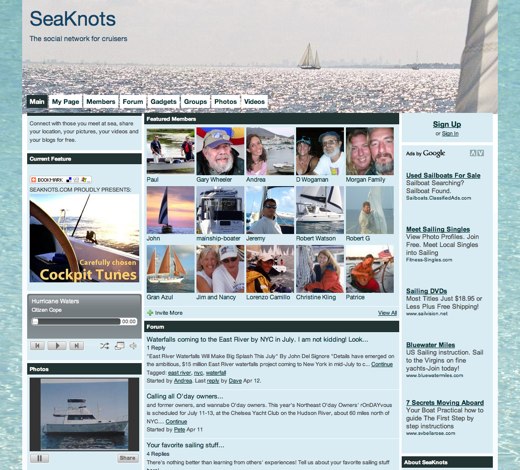 SeaKnots is a beautiful network created for the boaters among us who love to sail the seven seas. With an aquamarine ocean background, you can't help but want to throw on your Captain's hat and raise the anchor.
When joining this network, members are asked to identify themselves as a Vessel, Sailor or Yacht Club/Marina. This way, your Bruce Roberts 42 can have it's own profile! And with amazing images of both sailors and boats, there's a lot of content to dive into.
Don't feel you have the sea legs to shimmy up the mast to untangle the sail lines? Check out this great instructional video for using the Mast Mate climbing system! You'll be fixing the rigging in no time. Also, the forum is filled with great info ranging from boat naming to the America's Cup, which will be great for speaking the lingo at your next boat race!
So if you own a boat, have been on a boat or just you would look good in a sailor's hat, set your course due West and sail on over to http://seaknots.ning.com/.