StrayRocket: Because You Can't Always Be Outside
Ning Network Spotlight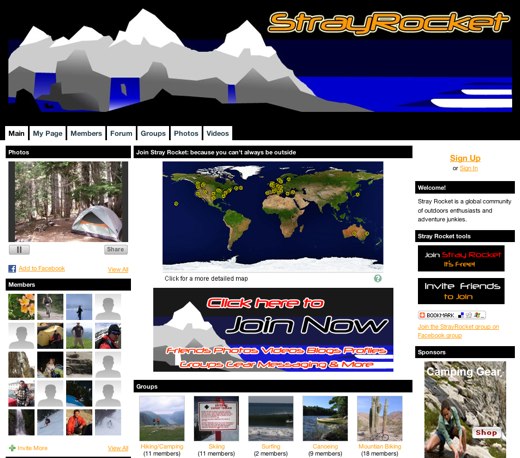 Kayakers braving their way down the river rapids in Tibet and a rock climber walking a "slackline strung 900 feet in the air across Utah's Hell Roaring Canyon" are just some of the many incredible adventures Network Creator Chris Emery blogs about on StrayRocket, a social network for "outdoor enthusiasts and outdoor junkies."
You can find members hanging out in popular groups such as mountain biking, snowboarding, skiing, hiking, camping and canoeing. Taking advantage of the forum's Trip Planner category, members discuss their upcoming outdoor excursions.
Visiting StrayRocket, you can tell the Network Creator has done a fantastic job keeping his social network fun and active, starting with his creative domain name, StrayRocket, a name that "captures the idea of people who are on a different trajectory than most." He has also customized the main page's appearance with an outdoor themed banner and is constantly adding new and engaging content such as blog posts and videos. In addition, he updates his members in a blog post of the new and cool features on his social network, and informs them that there will be lots more exciting features on the way!
If you can't get outside today, check out the photo slide show and visit StrayRocket!