Taking care of business at home
Ning Network Spotlight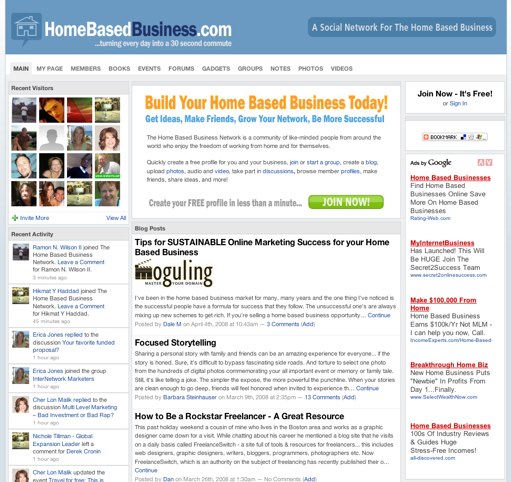 Home Based Business is a network for people "who enjoy the freedom of working from home and for themselves." From business consultants, travel agents and booksellers to designers and marketing professionals, all types of entrepreneurs gather to talk business, get advice and maybe a few clients!
Many members blog regularly on the network, sharing their thoughts on topics like how to sustain a successful online marketing campaign for your home business to how to be a rockstar freelancer. Similar conversations get taken up in the forums, where members chime in on how to build a great team and the pros and cons of working with a group.
If you are just getting started with your home-based business, there is a section of book recommendations to help you learn more about what to expect and how to get your company off the ground. In the videos section, there are original Home Based Business tutorials, for things like setting up your own Web site domain name and establishing your brand online.
With tips and tricks like these, you will have your Home Based Business up and running in no time!