The art of marketing art
Ning Network Spotlight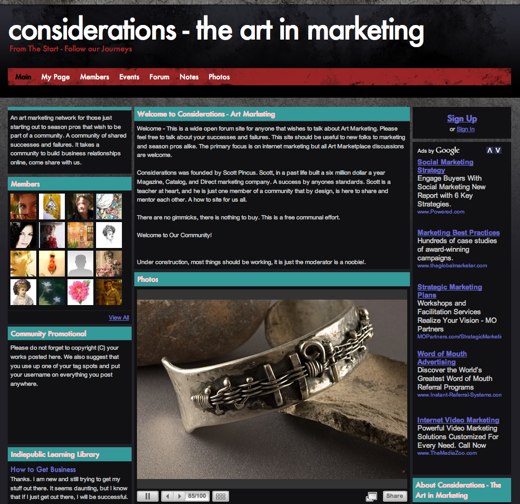 Considerations is a social network for art marketers. Members share their successes and failures in the art marketing world while creating an informational business network!
Forum discussions are highly informative and touch on subjects such as how to get business or how to use Craigslist.com to see your art!
Members are incredibly active all over the network, showing off their latest and greatest or talking about their brand promise. Photos are constantly uploaded to showcase their latest work, ranging from jewelery to Egyptian-style paintings.
Network Creator Spincus keeps an frequently updated blog on informative and interesting stories and topics. Read his Tale of Two Models or a bit of marketing data.
If you are an art marketer, you would be missing a great informational resource if you let Considerations slip through your fingers!