Save a tree, or three, with the Mug Project
Ning Network Spotlight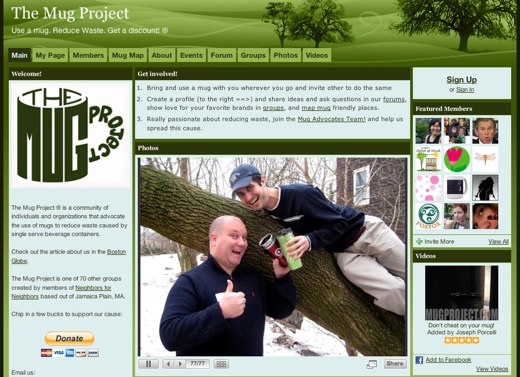 It's Earth Day and the members of The Mug Project are doing their part!
The Mug Project encourages members to take a mug wherever they go in order to reduce the waste that results from disposable cups.
The Mug Project operates under the umbrella of Neighbors for Neighbors, a non-governmental organization looking to "bring neighbors together to satisfy the human need to connect and care for one another." Network Creator Joseph Porcelli, also the proud founder and executive director of Neighbors for Neighbors, first thought of the project when he realized that he had three disposable paper cups sitting on his desk. He thought of how much waste could be saved if he carried around a mug with him instead, and decided that that was going to be his project for the year! He asked his neighbor Dan Goldsbury to jump aboard (he said "yes"), and they were off!
Ning has proven to be a great platform on which to launch their project. "Ning allowed us to create an instant community and provide our members with communication and collaboration tools to further our mission," Joseph said. "What I like about it most is that the Ning platform is designed to encourage members to be leaders and take on their own initiatives by creating their own groups and events [such as Mug Madness]. We had an idea and with this awesome tool, our members are blowing it up!"
Guided by Joseph and Dan, members take an active roll in their social network. They are very active on forums and groups, informing people on what stores reward you for being green and showing off each others custom made mugs. Photos are constantly uploaded featuring members with their beloved mugs. Especially entertaining are member "mug shots." Joseph is very proud of his members and their contribution on the Ning platform. "I believe everyone can and wants to make a difference," he said. "Ning provides everyday folks with access and tools to leverage community."
So this Earth Day, do your part in saving our environment and join The Mug Project and their fantastic mission!