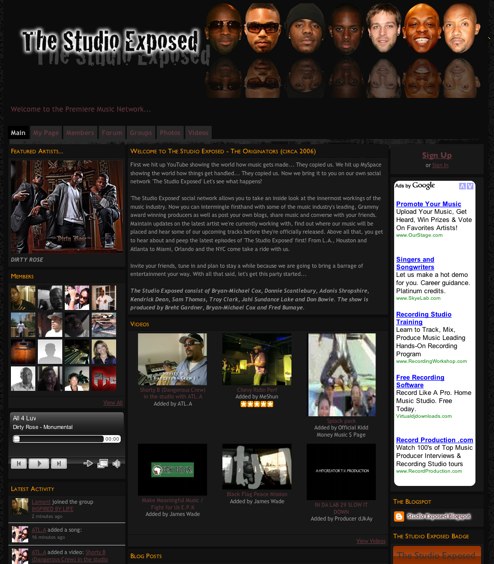 Ever wonder what it's like to work behind-the-scenes in the music industry? What goes on behind closed recording studio doors? Well, now you can find out at The Studio Exposed, a new network that allows you to "take an inside look at the innermost workings of the music industry."
Over 600 members have joined in just a few weeks, no doubt appreciating the network's "mixing and mingling, conversations, blogs, music, videos, pictures" and more, as Breht Gardner puts it on his blog.
The network's videos give you a closer look at the creative process, with a sneak peek inside the studio of Shorty B and ATL.A and artist interviews. In the forum, members discuss everything from favorite chord progressions and upcoming industry events, to how they picked music as a career and the meaning of it all.
For real hands-on advice, you can join the Pro Tools Users or Business of Music groups. When you're ready to dive in and see how your own music stacks up, the Beat Battles group is waiting.
Make some music, make some noise, and find your way to The Studio Exposed.
No related posts.