The world's greatest skate comp!
Ning Network Spotlight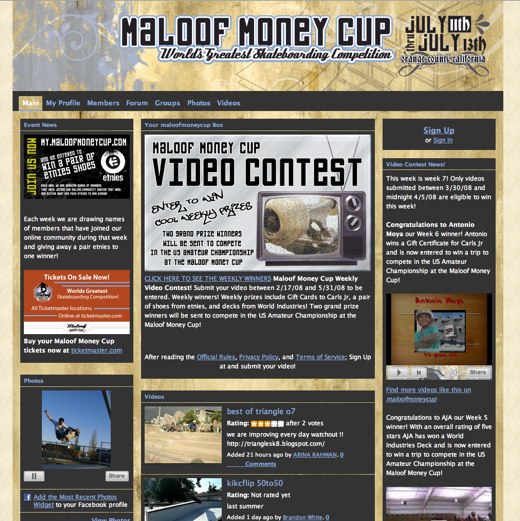 The Maloof Money Cup network is for the skateboard competition of the same name, known as one of the "World's Greatest Skateboard Competitions." Scheduled to take place July 11th to the 13th in Orange County, this skateboarding mecca will be the best place to see the pros push the limits of skating.
Created to get the word out about the contest, the Maloof Money Cup social network is attracting skaters and fans like wildfire. One of the best aspects of the network: each week members submit videos to the Maloof Money Cup Weekly Video Contest! Weekly prizes range from fast food gift certificates to brand new skate gear. And, two grand prize winners will be sent to compete in the US Amateur Championship at the Maloof Money Cup. That's right. Two overall winners will get to compete at the Maloof Money Cup!
So whether you like to huck big air, do insane wall plants or just wish you did, get your pads on and head over to Maloof Money Cup. They're waiting for your video!