TransplantCafe.com: a place to share your transplant experience
Ning Network Spotlight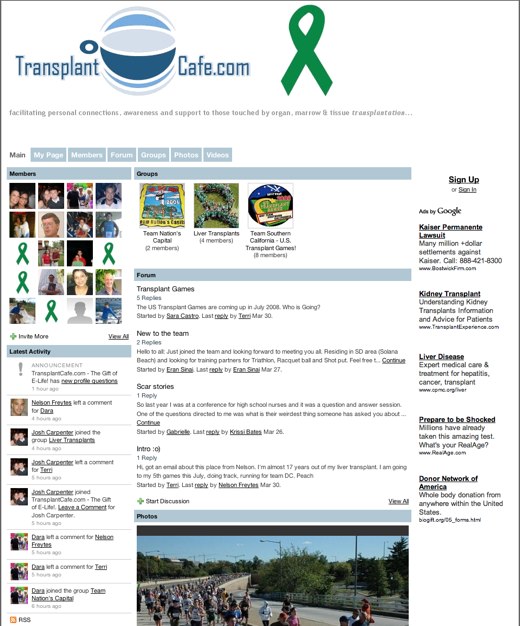 In the past 20 years, over 400 thousand organ transplants were performed in the U.S. Nelson Freytes, Network Creator of TransplantCafe.com was involved in one of them: he received his liver transplant in 1988.
The experiences Nelson had at the World Transplant Games and the US Transplant Games inspired him to create this social network. In the process, he is impacting the lives of the transplant community.
Members of TransplantCafe.com share their life stories through their blog posts, which are featured on the network's main page along with a photo slideshow, the most popular forum topics and videos uploaded by the members. Members have also created groups to discuss the US Transplant Games and specific organ recipients.
Nelson has taken advantage of the RSS feature to pull in the latest transplant news from Google News. He has changed the favicon for this network and changed the default avatar for members who choose not to add a profile photo. All these details contribute to the user experience he seeks to create to those who visit and sign up for TransplantCafe.com.
If you or someone related to you is touched by transplantation, connect and share your experience with the transplant community at TransplantCafe.com.