University Web Developers
Ning Network Spotlight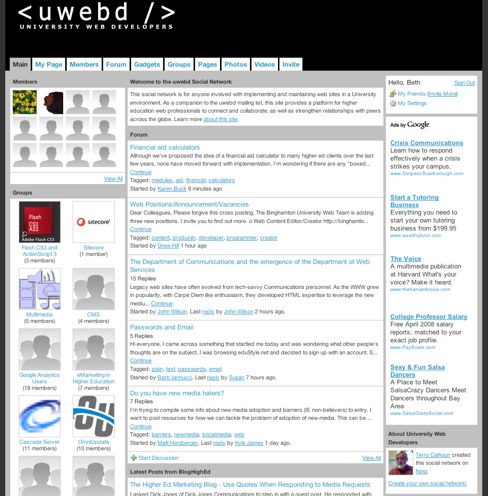 University Web Developers is a network for anyone involved in creating or maintaining a university website. What started as a mailing list is now a full-fledged network, allowing higher-education Web professionals to meet and collaborate online.
The network was started by Terry Calhoun, himself a member of the Media Relations and Publications department at the University of Michigan. Schools across the United States are represented from the University at Buffalo to the University of Florida.
Members use the network to discuss the complicated ins and outs of web development in a university setting — whether it's dealing with new media haters, trying to find the best web site folder architecture or dealing with bureaucracy in a web 2.0 world.
There is even university web developer humor being shared on the network and great videos on to help explain things to the execs. For more serious news, Terry feeds in posts from Blog High Ed on the main page.
For these professionals, school is never out!