Unsigned Chart
Ning Network Spotlight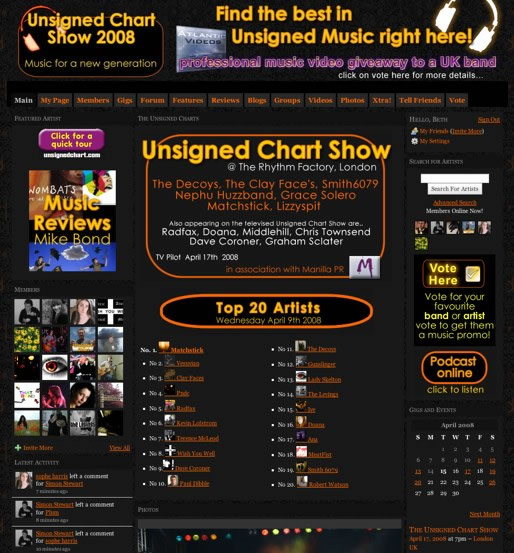 It used to be that you had to have a record deal to have any hope of getting your music heard by the masses, but no longer. The Internet and digital distribution have radically changed the equation and Unsigned Chart is a network for this new frontier.
Network Creator Keith Davis is a former record shop owner and serial entrepreneur who has been building music sites for the last 10 years. On Ning, he has been able to provide a fantastic set of features to help unsigned bands and fans connect.
The main page includes a weekly "Top 20" countdown of artists on the network. Recent top artists included Matchstick, a 23-year-old singer-songwriter who counts Sigur Ros and Feist among his influences, and Meatfist, a four person pop-punk band.
Of course, discovering and listening to music online is one thing, but the real fun is getting out to enjoy a live show. Unsigned Charts was quick to implement the new events feature in our latest release, using the language editor to rename it "Gigs."
There are already dozens of performances to choose from, including the network's very own Unsigned Chart Show which is being taped for future broadcast on television. Network favorites Matchstick and Meatfist are both taking part.
If you're looking for some new music your life, look no further than Unsigned Chart.