A closer look at the fans of Luis Miguel
People Profiles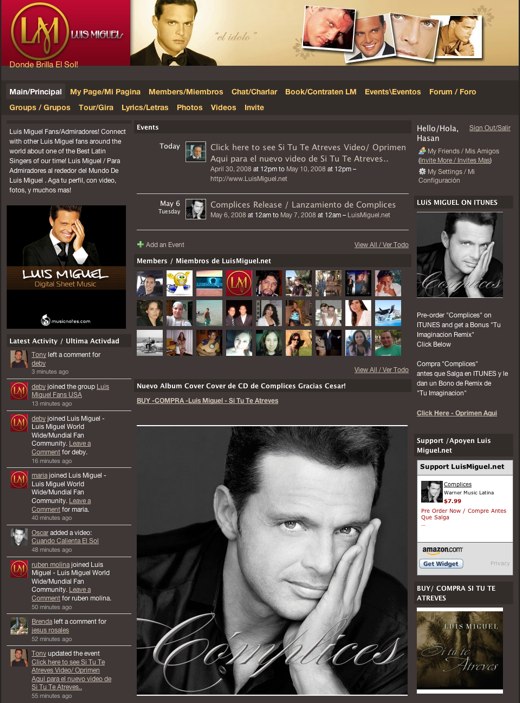 If you love the 'idolo' of latin music, LuisMiguel.net is the network for you. A lot has changed since we've last featured the network. Membership has grown by over 300 members and Luis keeps churning out the hits! This week alone his new video Si Tu Te Atreves is in rotation and Luis is getting ready to drop his 21st studio album Complices on May 6th. If you haven't checked out this network, now is definitely the time. We took the chance to chat with Network Creator Tony Bello about his network:
Who are you and where are you from?
My name is Tony Bello, I love making music, I'm a bass player/songwriter, and I love technology and business. I love creating, period. I was born, raised and reside in the San Francisco Bay Area.
What made you decide to create a social network on Ning?
I thought Ning's platform seemed easy, robust, and scalable to go along with my vision about what I wanted out of my network and how I wanted it to accomplish it. I researched quite awhile, Ning always came out on top, just like my network is now 🙂
What makes Luis Miguel fans different from any other pop singer fans?
They are very loyal and passionate about Luis Miguel and his Music, even when he is not on tour or doesn't have an album out. They are by far the most romantic group of fans for any artist. He has fans of all ages , in all countries.
What's your favorite Luis Miguel song?
Just like other fans on LuisMiguel.net, There are too many to list. He has a song to fit every mood. The true answer is I like them all. Just some more than others.
What features do you like the most on your network?
So many to mention, but the interactivity that is allowed between members is golden. The simplicity of adding/removing features on the fly. Another great feature is knowing that Ning is behind it all improving my network daily and giving me more features to have members coming back for more
What surprises you the most from members ?
How friendly and helpful they are. Such as offering to do translations, how to manuals, they offer their help freely to improve the site for other members. Truly a great group of people! Can't wait to offer them more options!
Any advice for aspiring Network Creators? How do you suggest Network
Creators spread the word about their network?
Yes! Keep your vision, keep focused. Do something everyday to get to where you want to be. Passion, persistence, and diligence pay off in the end. Ask the right profile questions! You'll learn and other members will learn from them. This is key. Don't be afraid to let members help you grow. The passionate ones want to see it succeed just as much as you do. Delegate some duties. Word will spread much faster this way. The faster you teach people how to do things on your network (i.e. add videos, photos,etc…), the faster content and members will grow. Have fun with it!