A fine day in Pasadena
Ning Network Spotlight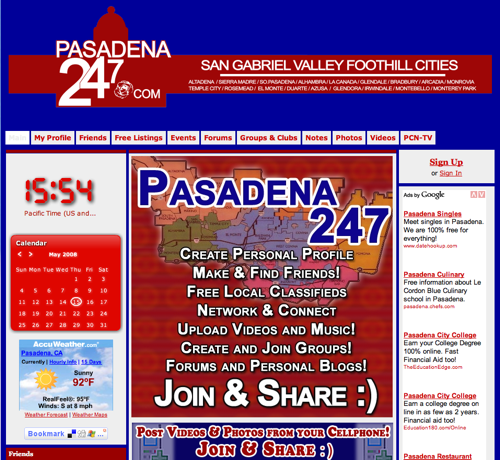 Pasadena247.com is "San Gabriel Valley's First & Only Free Local Listings & Community Social Network." We had an opportunity to chat via with Aaron Wheeler, City Commissioner of Pasadena and Pasadena247.com's network creator. We talked about his motivations for creating the network, as well as his future plans.
Tell us a little bit about your network.
[We're] committed to community awareness and bringing the San Gabriel Valley together. It has been dubbed the Craigslist & MySpace of Pasadena, California.
What makes Pasadena247.com so unique?
We came up with this idea because we ran into old friends and past school buddies all the time. So we figure, why search all of MySpace if we all have something in common, Pasadena! There are so many free local events going on, let's inform the local residents.
Your network already has many sponsors. What advice do you have for network creators who want to get sponsors?
Most medium and small businesses are looking for local residents to advertise and market to. Pasadena247.com is not "hit & run" advertising like local newspapers. People want to connect with friends, enjoy online entertainment and communicate with their community.
Because of our background in marketing and advertising we realize local businesses are hurting, not reaching the Web-savvy teens and young adults in their local community. Plus, with gas prices over the barrel and the hurting economy, this will only drive people to their local business.
What's next for Pasadena247.com?
Pasadena247.com is only on the fringe; we are working on local San Gabriel Valley podcast shows, live chat and call in shows and much more. We're not trying to take over the world, just enjoy our part of the community. We also produce the two shows featured on Pasadena247.com each week, BlogtainmentTV.com & GamerAbyss.com, all built on the Ning Network.
Anything else you want to add?
Ning, thank you for your back-end development and Web services, you guys and gals are doing a great job. Ning's customer service has been fabulous. We switched from KickApps to Ning, and it was the best choice ever! Keep up the good work! Cheers to All!