A home for Colorado's towns
Ning Network Spotlight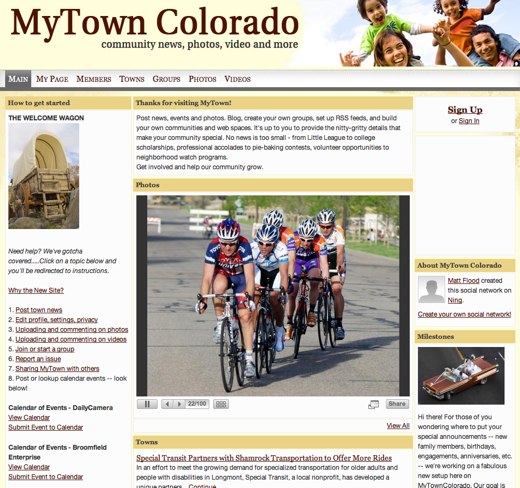 Colorado residents: Welcome to your new online home. MyTown Colorado is the social network for Colorado residents and it aims to bring the same sense of community residents get in their neighborhood to the Internet.
The network's all-inclusive approach is obvious from the first glance. On the top left of the network's main page, members can browse through the "Welcome Wagon" — a getting started guide for members. For starters, MyTown Colorado staff explain why they converted their old site into a brand-new social network. Of course, the reasons are numerous:
"With the former site, you could share your news, events and photos with the community, family and friends. But now you can do even more, including setting up your own profile; creating your own communities and networking with friends, groups and organizations; posting video; setting up RSS feeds; customizing your MyTownColorado page and more." 
The more than 300 members the network has garnered already have taken a liking to the photos feature. More than 1000 photos have been uploaded so far, many of them highlighting local slices of life in Colorado. From shooting hoops to scenery shots, it's easy to get a sense of the localities from the photos.
In another interesting use of the language editor, MyTown Colorado staff have renamed the forum to "Towns". In doing so, they've created a way to focus discussion for each of the towns in the area into different places. To do so, they've created categories for each town, so that Boulder residents can keep their discussions distinct from Lafayette.
If you're a Colorado resident — or would like to be — come on down to MyTown!