A new way to look at podcasts
Ning Network Spotlight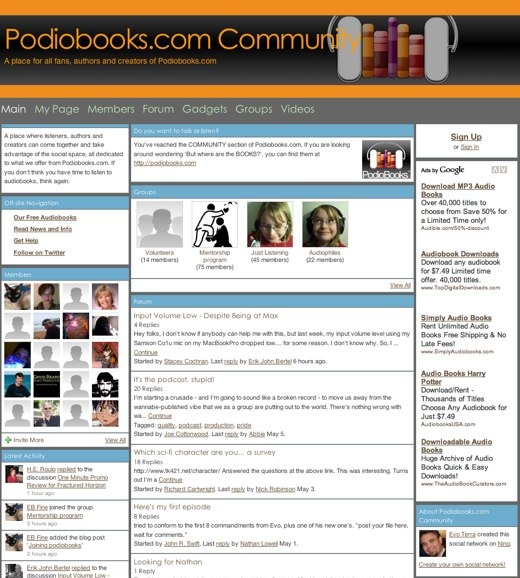 If you've ever lost yourself in a great book, you know the value of a great story. With virtually an unlimited amount of choices, it's tough to find engaging, up-and-coming authors and writers. Here at Ning, we've found the next best thing. The Podiobooks.com community is where listeners, authors and creators can come together and take advantage of the social space to talk about their favorite podcasts and audiobooks. We had a chance to chat to Network Creator Evo Terra about this fantastic network. Here's what he had to say about the 'Podcast Revolution':
Who are you and where are you from?
My name is Evo Terra. I live in Phoenix, Az.
What made you decide to create a social network on Ning?
Many of our members and authors were looking for ways to communicate better with one another. I had a specific need to create a sort of "mentorship" program, where existing podiobook authors could help guide along those who were new to the process. And why build those sorts of features when Ning had them ready to go?
What makes Podiobooks so unique?
Podiobooks.com exists for a single reason: to help "underpublished" authors reach a wider audience. The tools and technology to make your own audiobook are ubiquitous, but we saw an opportunity to bring hundreds — hopefully thousands — of authors together under a single roof. They have 100 percent freedom with their content — it's their book. Our job is to help make it as easy as we can for listeners to find and enjoy the books. We've got a long way to go, but we're happy with where we are today — just over 200 titles!
What is your favorite audiobook or podcast? Any particular authors or artists you recommend us tuning into?
I'm a huge fan of many of the podcast audiobooks available on our site, and I'm constantly amazed at the level of quality many of our authors can achieve with very little money in equipment and a whole lot of attention to detail. I have my list of favorites, but we're adding so many each week that it's tough to keep up!
What features do you like the most on your network?
That I don't have to mess with it. One of our authors, Nathan Lowell (great stories. Listen to them. All of them!) has taken on the mantle of "admin" for me. He's fantastic. And even without him, there's very little I'd have to do. With enough people contributing, this thing runs itself!

What surprises you the most from members ?
That they seem to live on the site. Seriously. I post a comment or a note, and I get feedback instantly. I always thought I was quick on the draw, but these people…
Any advice for aspiring Network Creators? How do you suggest Network Creators spread the word about their network?
You need to have a focused topic and a user base in need of "activation". Without that, you're just another SNS without a point or people. And really, we don't need more of them. So if you fit that bill, give it a shot. As far as spreading the word, we sort of "pestered" our existing site users in a fairly innocuous manner. For about a month, any outbound email (service ticket, donation thanks,etc.) was accompanied by a very personal "Hey, you might want to check out our new community section at…" note. It worked!