Armed forces unite at TroopSpace
Ning Network Spotlight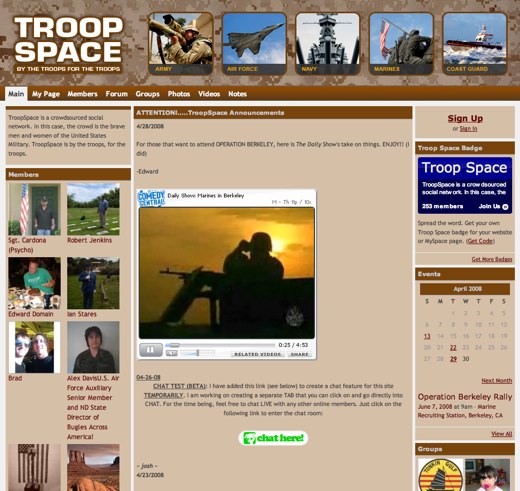 Troopspace is "by the troops, for the troops." It is a crowdsourced network that welcomes members of the Army, Air Force, Navy, Marines and Coast Guard. Troopspace provides groups for Civilian Supporters and Veterans in addition to enlisted troops.
Have a question about joining the military? You'll find some answers in the forum, as well as political discussions and field experience. The live action continues in the videos section of Troopspace. Featured videos preview documentaries offer tributes, and provide humorous clips.
Members proudly share their lives in the photos section of the network. At last count, more than 1100 photos have been added! This pride extends outside the network, thanks to the badges and widgets available.
To explore the military perspective, visit Troopspace!